From the beginning that this was going to be a ground mounted system and not be mounted on my home or my barn.  Since my barn is about 200′ from the house and has 240v/70amp service to it from the home's 200amp service panel, I decided to place the inverter in the barn and back feed from there.
Let me say this, I did not originally plan on this being a 100% DIY project.  I had reached out to numerous Solar contractors within 150 miles for engineering and pricing for ground mount, and design.  I understand they are in the business to sell complete systems, but they were @#(*&#*& useless!  If I had millions to build a system, I would not give one of them a freaking penny.  Hell, I even tried to pay them to install what I had.  So, "Screw'em, I'll do it myself!" 
And so the adventure began…
I had all the engineering documents from Snap-N-Rack and used their configurator web application to layout the physical mounting for the array.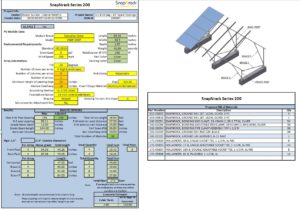 Now I had to find software to do the electrical design for the permit.  I'm a geek, techie and an major DYI'er, so I'm not totally unaware of electrical requirements, but I do not know the 2015 NEC codes and really didn't want to learn them either.  So, famously said, "Nobody gots time for that!" 
My google-fu lead me to a site called solardesigntool.  At the time, and may still be, it was free for 30 days.  The site is amazing, I used the 30 days to learn how to design my system.  The owners of the site are VERY helpful and answered all my dumb ass questions.  The system worked perfectly with some minor issues.  (1) It was unable to do a complete 1 line drawing when feeding a sub-panel (the one in the barn) and (2) it did not have SNAP-N-RACK inventory information in the system.  Anyway, that was minor.  The data generated included all wiring gauges needed for compliance to NEC codes (2015? Maybe 2017?) I paid for an extra month just to show my support for the company.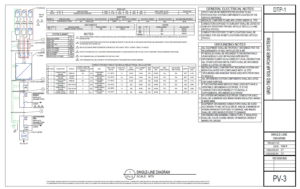 The tool generated PDFs for permitting and also an autocad output of the 1 line drawing.  Using a free autocad like program, I was able to modify the drawing to include the sub-panel in the barn in the drawing.  Used acrobat pro to modify the PDFs to include the SNAP-N-RACK diagrams and engineering.
I must have gone over the permitting package that I was going to submit to the county 100 times.  Finally I said screw it and applied for the permit.  I did so on a Friday afternoon around 2-3pm.   Come Monday morning, I received an email that my permit was issued and I could some pick it up.  Holy shit, this just got real…